gildereuzen
Showing all 3 results
Kerst Decoratie Staander/Hanger
Onze kerstbalreuzen zijn breekbaar en fragiel. Handle them with care. We verkopen daarom een hangertje waardoor je het hele jaar door de reuzen kan tentoon stellen.
not rated
€

6,00
Add to basket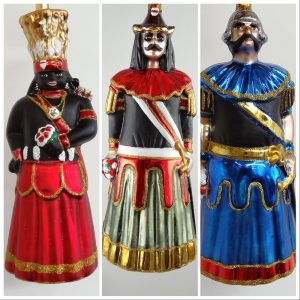 Set Kerst Decoratie Gildereuzen
Als Dendermondenaar ... moet je je kerstboom wel versieren met de crème de la crème. Gemaakt in echt kerstbal-glas op de "old-fashioned way". Mars heeft een lengte van 15, Indiaan 18,5 en Goliath 18 cm. Geleverd met een aangepast postkaartje in cadeauverpakking.
not rated
€

95,00
Add to basket